A century ago this year, Parliament passed the Representation of the People Act 1918 – a package of electoral reforms that extended the vote to women for the first time.
As part of the 100th anniversary celebrations, publisher St James's House has partnered with the History of Parliament Trust to produce the official commemorative al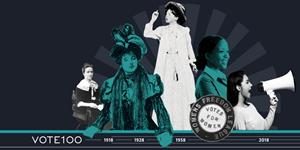 bum for the Vote 100 anniversary campaign, entitled Voice & Vote.
Written by academics and experts, including Dr Rhiney whose own contribution is entitled 'One survivor is helping to arm the next generation against domestic abuse' and featuring a fascinating selection of archival images and documentation, the book tells the story of the struggle for women to get the vote, how the vote was won and how the fight for equality continues to this day. Dr Rhiney is thrilled to be attending the launch which will take place at 6pm on 27 June at Westminster Abbey.
2018 marks 100 years since Parliament passed a law which allowed the first women, and all men, to vote for the first time. Celebrate this milestone by getting involved with Vote 100. Lots of exciting activities are happening, including a major exhibition, talks and tours, plus events around the UK. Follow #Vote100 on Twitter to keep up to date.