FORBES NAMES NAKED TRUTH PR CLIENT TEMI MWALE OF THE 4FRONT PROJECT FROM GRAHAM PARK ESTATE, COLINDALE IN ITS SECOND ANNUAL 30 UNDER 30 EUROPE LIST
#ForbesU30Europe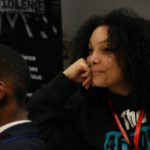 Temi Mwale, CEO and Founder of The 4Front Project from London, England, in the Social Entrepreneur category, was named to Forbes' second annual "30 Under 30 Europe" list, a list that features 300 young innovators, entrepreneurs and leaders across Europe who are under 30 years of age and who are transforming business, technology, finance, media, culture and more, as judged by some of the most accomplished and acclaimed individuals in each category.  For the full list, please visit:
www.forbes.com/30under30europe.
21-year-old Temi grew up on the Grahame Park Estate in Colindale, North West London. Following the murder of her childhood friend Marvin Henry, she founded The 4Front Project in 2012. 4Front is a youth-led social enterprise that aims to understand and reduce serious youth violence by empowering young people and putting them at the forefront. Marvin was shot and killed in 2010, a month before his eighteenth birthday. Temi is also a final year undergraduate at the London School of Economics where she is studying a law degree. This year, when she graduates, she will finally be able to run The 4Front Project full time. Temi said "I am humbled to have made the list and to be recognised for making an impact through social entrepreneurship. Everything I do is in the memory of my friend Marvin, but many more young lives have been lost since he was killed.  I do believe that we can end serious youth violence by addressing its root causes, such as trauma. I want to show young people that anything is possible, don't let where you come from determine where you are going, I grew up on a council estate just like you"
The Forbes 30 Under 30 Europe list covers 10 categories – Arts, Entertainment, Finance, Industry, Media, Policy, Retail & Ecommerce, Science & Healthcare, Social Entrepreneurs and Technology – with each of the honorees vetted by a panel of expert judges in their respective fields.